Since I released the method of how to buy Tents, many friends want me to write an article on how to buy stoves. Let me take AA as an example. Let's discuss how to choose an outdoor stove suitable for ourselves.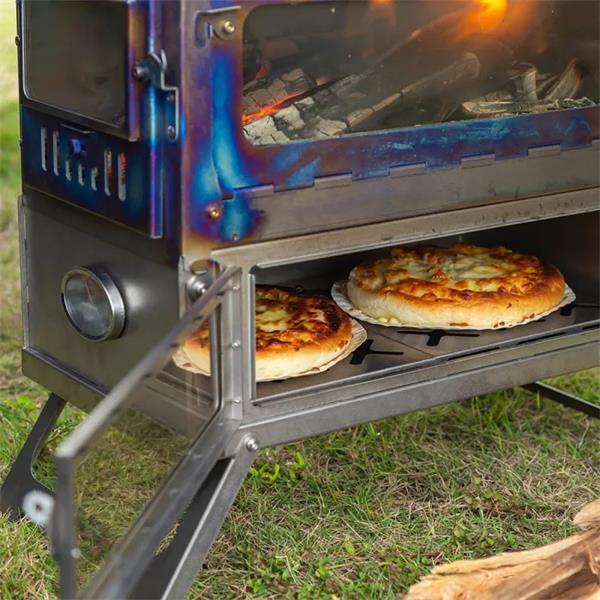 What is an outdoor stove?
Outdoor stove refers to the tool used for cooking during outdoor hiking. Pomoly Taisoca Oven Stoveis one of the indispensable tools for outdoor camping. Firewood stove is the most primitive camping stove and the stove with the most camping atmosphere. Fuel for firewood stoves is readily available. There are many dry firewoods in nature. When we camp, we not only don't need to bring materials but also save money.
Shop Now:https://www.pomoly.com/TAISOCA-Oven-Stove-T1-Series
Advantages of Pomoly Taisoca Oven Stove:
Customized requirements can be made. Pomoly Taisoca Oven Stove has many styles. You can choose the habit you want according to your usage habits. You can choose the size you want. Pomoly's goal has always been to make stoves suitable for customers.
Foldable stove legs. The stove's legs can be folded. This design makes it easier for you to store and store the stove.
Hollowed out the grill. Through the hollowed-out grill, hot air can circulate at the bottom of the food to heat the food evenly.
Oven thermometer. The thermometer has scales of Fahrenheit and Celsius, so we can easily check the internal temperature. After continuous testing by the Pomoly team, the temperature of Pomoly Taisoca Oven Stove is between 350 ° F and 500 ° f (176 ℃ – 260 ℃).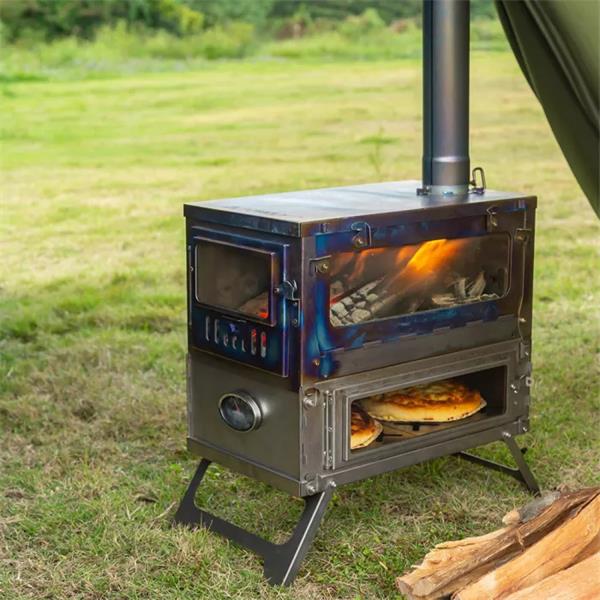 Disadvantages of Pomoly Taisoca Oven Stove:
I think the disadvantage of this stove is its weight. Since this stove has two layers, I think it is more suitable for car camping.
What's Included:
T1 Taisoca Stove
Titanium chimney
Stove carry bag
Smoke damper
Spark arrestor with 3 rings
Cut-resistant gloves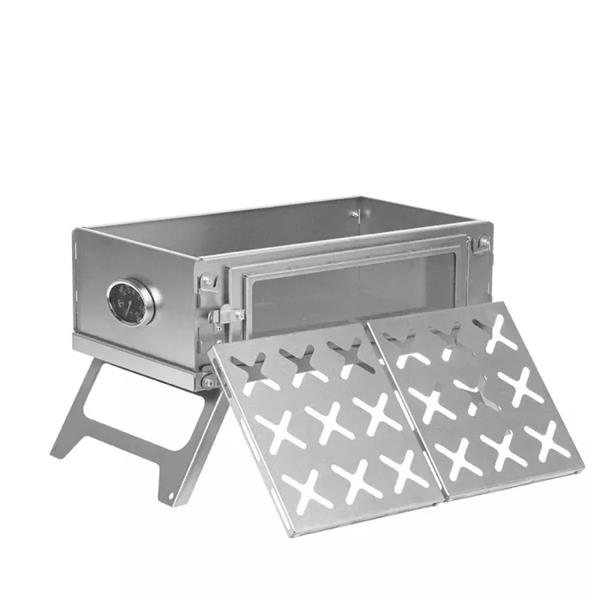 Pomoly Taisoca Oven Stove Specifications
| | |
| --- | --- |
| Stove Type | Titanium Stove with Oven |
| Weight(Without chimney) | 10.6 lb / 4.8 kg |
| Folding Dimension | 16.3 x 8.7 x 4.3 in (41.5 x 22 x 11 cm) |
| Oven Dimension | 14.9 x 8.7 x 4.3 in (38 x 22 x 11 cm) |
| Assembly Dimension | 17.7 x 8.7 x 16.5 in (45 x 22 x 42 cm) |
| Side Glass Size | 11.8 x 3.9 in (30 x 10 cm) |
| Oven Glass Size | 10.4 x 2.6 in (26.5 x 6.5 cm) |
| Spark Arrestor | Yes |
| Pipe Diameter | 2.36 in / 6 cm |
| Pipe Type | Rolling or Non-Rolling |
| Material | 1mm Thickness Titanium (GR1/TA1) |
| Firebox Volume | 15L |
| Oven Volume | 9.2L |
Conclusion:
A good stove has no specific criteria. There is no best stove, only one suitable for you. If you have some specific requirements for the stove, you can email their customer service team through Pomoly's official website. I believe they will answer your questions patiently.