Pomoly is a company specializing in outdoor camping equipment. They mainly make titanium wood stoves and hot tents. I collected buyer reviews on FaceBook and youtube and deduced a few of this company's best-selling wood stoves for the winter of 2021. Next I will synthesize the information I collected and introduce these stoves to you.
Dweller Wood Stove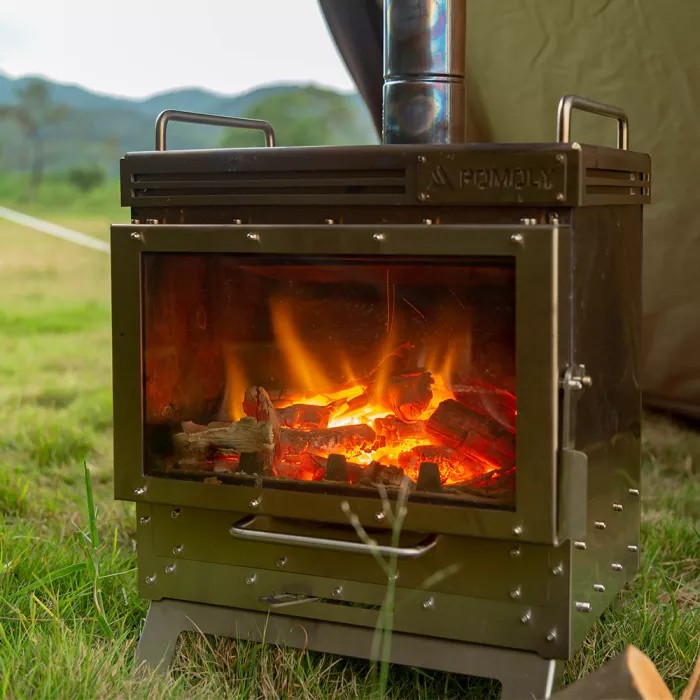 The POMOLY Dweller stove is a mobile fireplace made of 304 stainless steel that mimics a home fireplace. It has a 3mm thick stainless steel body and a piece of high temperature resistant glass measuring 10 x 5.9 in. The fireplace is brought to life with shiny modern craftsmanship, giving it both a technological and classical appeal. The fireplace has an adjustable air inlet at the bottom and an air inlet and a baffle at the top, which increase the efficiency of wood burning, allowing more heat to be produced and reducing smoke particles. Stainless steel products have a more robust structure, whether for home or out camping, it can be very good at it. The stainless steel product will also slowly change color under high temperatures, although not as bright as the color of the titanium wood stove, but the light color change is also very beautiful. Its front glass is certainly a highlight, and what camper doesn't like to play with flames?
Youtube: https://www.youtube.com/watch?v=iu5DzVOV2JE&feature=emb_logo
T-Brick Mini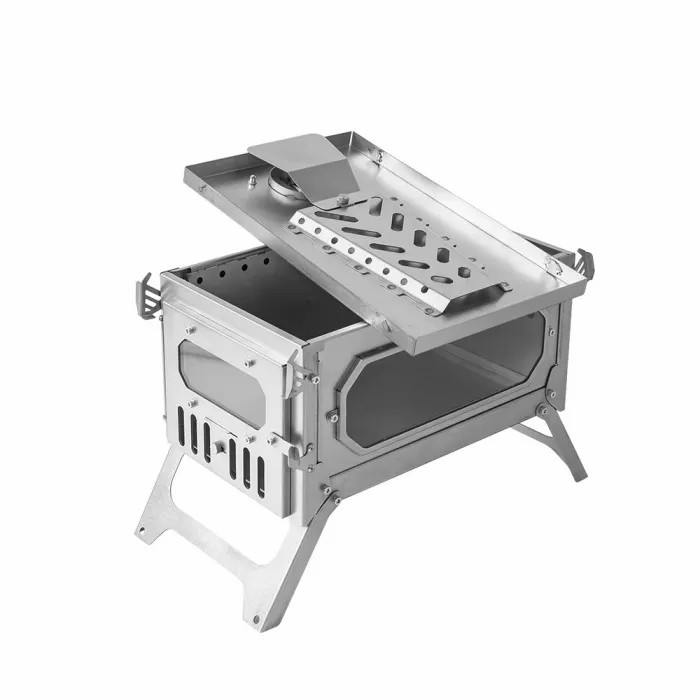 This is the new POMOLY Titanium stove. It is a variation of the T-Brick, with a smaller size and lower price, with no changes to the main design.
One of the advantages of titanium stove has always been their light mass, but this brings with it the disadvantage that the thin metal can deform at high temperatures. To solve this problem, the T-Brick series stove uses a reinforced structure in several areas. For example, a three-dimensional fixing structure is added under the bottom and top plates, and they can effectively reduce the degree of deformation.
In addition, the T-Brick series stove has an additional improvement over the T1 series stove, that is, the left and right side panels of the T-brick can be replaced in position, no matter what kind of direction you are using, you can place the glass side panels against you. Never miss the flame of the stove.
Lightweight titanium plate with foldable structure makes this titanium stove undoubtedly the first choice for lightweight travel, whether handheld or in the car, will be very easy.
Youtube: https://www.youtube.com/watch?v=-wsTX6V9Jko&feature=emb_logo
T1 TAISOCA Titanium Oven Stove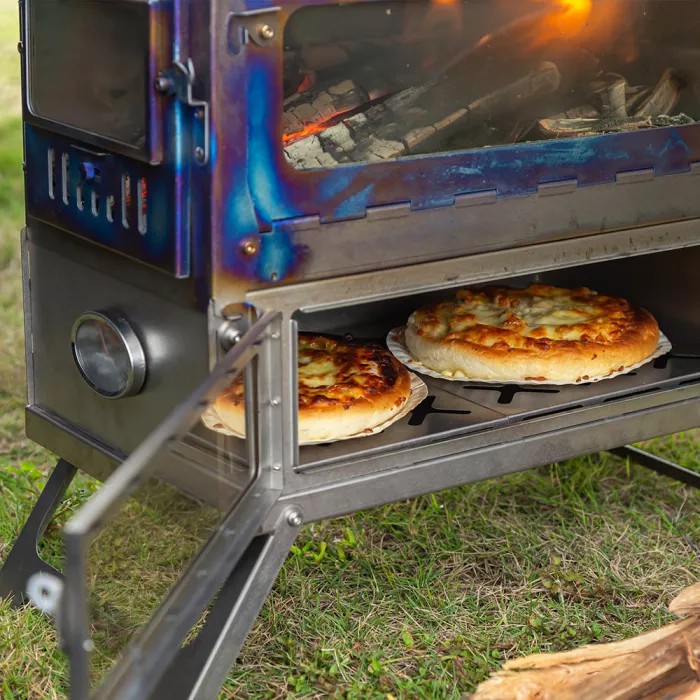 This is POMOLY's latest oven stove in 2021. A multifunctional oven is enough to let you make a big difference in the outdoors and make delicious food. Putting the oven at the bottom of the firebox instead of the top is specifically tested, the bottom temperature is lower than the top temperature and more stable, which is certainly very important for the food that needs to be baked. So they set the oven at the bottom. And it is also equipped with a thermometer to monitor the temperature.
After introducing its best features, let's see how he performs in other places. The oven layer and the combustion chamber are 2 separate chambers, and you can take the oven layer right out so that it becomes a separate wood stove. At this point, it's very similar to other T1 series stoves from POMOLY, with large side glass, floor fixing strips, front door air inlet…
The TAISOCA Titanium Oven Stove, which looks so huge, can also be folded all the way down to a height of 4.3in, so you don't have to worry about using it only on the patio.
Youtube: Not available at the moment
Conclusion
All three of these Pomoly stoves are very distinctive, but none of them are cheap, so be sure to pick them well to your liking.