As the Covid-19 epidemic continues and the lively cities become cooler, the trend of outdoor camping is gradually emerging and the demand for outdoor equipment is gradually increasing. Pomoly is gradually developing with its high-quality hot tents and responsible customer service. More and more campers are choosing to use Pomoly's stoves and hot tents. I synthesize some social media and Youtube videos to introduce a few of Pomoly's best-selling hot tents this winter.
STOVE HUT 70 Camping Hot Tent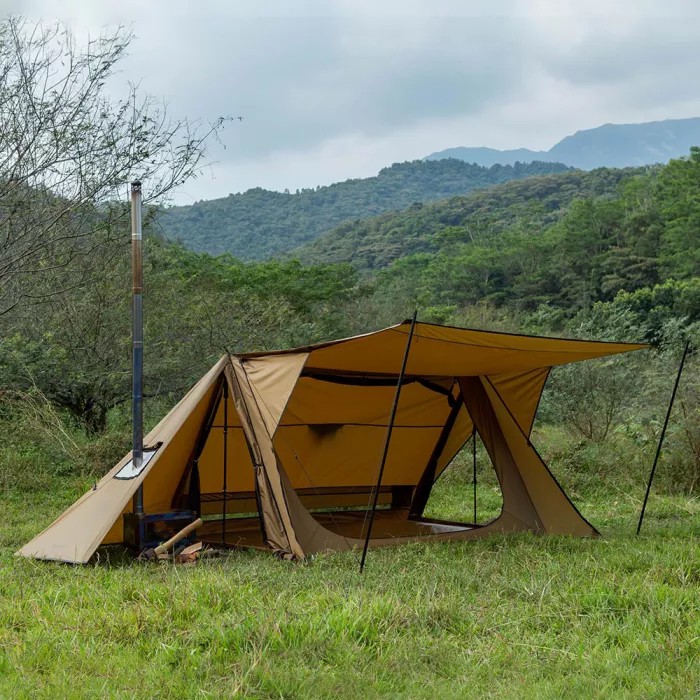 This is Pomoly's ultra-light shelter STOVE HUT 70 released in November 2021. Its best features are the ultra-light quality and tent space utilization. This hot tent is divided into 3 main parts: the side stove placement site, the main body of the rest area and the front canopy. This tent completely changed their previous design style, the stove moved out of the main body of the tent. Such a design will not appear the stove occupies half of the tent space, and is not easy to burn the body. Between the main body of the tent and the stove is 1 layer of screen, you can pull the screen to add wood, no need to run out from the door to add firewood. And the stove from occupying 1/2 of the tent space to occupy 1 corner of the tent, all the remaining space can be used. The space utilization of the whole tent reaches more than 85%. In addition, the door of the tent can be supported by 2 tent poles to form a canopy, so that even in heavy snow, you can have a spacious view to enjoy the snow.
But this tent also has the obvious disadvantage of the pursuit of light weight, giving up the more robust Oxford cloth and canvas material. Therefore, in heavy rain and strong wind, its performance may not make you satisfied. It is more used in mild weather.
Specification
Capacity: 1-2P with wood stove
Tent Fabric: PU 70D Ripstop Polyester
Waterproof: 2500mm
Sleeping Area: 35.5 sq ft / 3.3 sq m
Packed Size (L*W*D): 50x16x16 cm / 19.7×6.3×6.3 in
Total Weight: 5.7 lb /2.6 kg
Season: 4 Season
Youtube:https://www.youtube.com/watch?v=hzv9cyH8QGQ&t=1s
HEX Plus Camping Hot Tent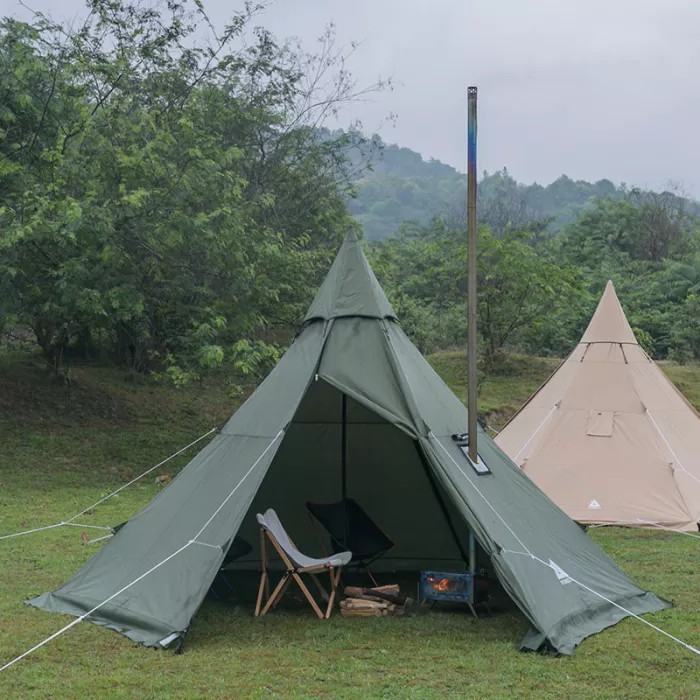 When you choose it, you will receive a tent that weighs 20lb. This tent is made of 300D oxford fabric and can accommodate 3-4 people at the same time. Its biggest advantage is the tough material, excellent wind and rain resistance, and also effective in blocking UV rays. In addition to its own material, it has a layer of rainproof coating on the surface, so that no rain or wind can penetrate in. In the cold winter camping, it will provide you with a full sense of security and warmth. When used with a stove, this winter will not hurt you at all.
In order to be more suitable for multiple users, this tent uses a double-door structure, which ensures easy access for campers and also increases the speed of ventilation. The tent cap can also be removed when the weather is sunny, but of course you can also just lift the corner of the cap. There is also a vent at the bottom of the tent, which promotes air circulation inside the tent and makes the user feel comfortable.
If you plan to camp on foot, it is not a good choice, because you need to spend a lot of energy to carry this tent. If the car can reach it, then this will not be a problem.
Specification
Capacity: 2P with tent stove or 3-4P
Tent Fabric: 300D Oxford with silver coating layer
Waterproof: 3000mm
Floor Dimension: 125.7 sq ft / 11.68 sq m
Packed Size (L*W*D): 24.8 x 5.9 x 5.9 in
Weight: 13.7 lb / 6.2 kg
Half inner: 5.5lb / 2.5kg
Season: 4 Season (Especially in winter)
Youtube:https://www.youtube.com/watch?v=L-DlJqnlI3s
YARN Plus Canvas Hot Tent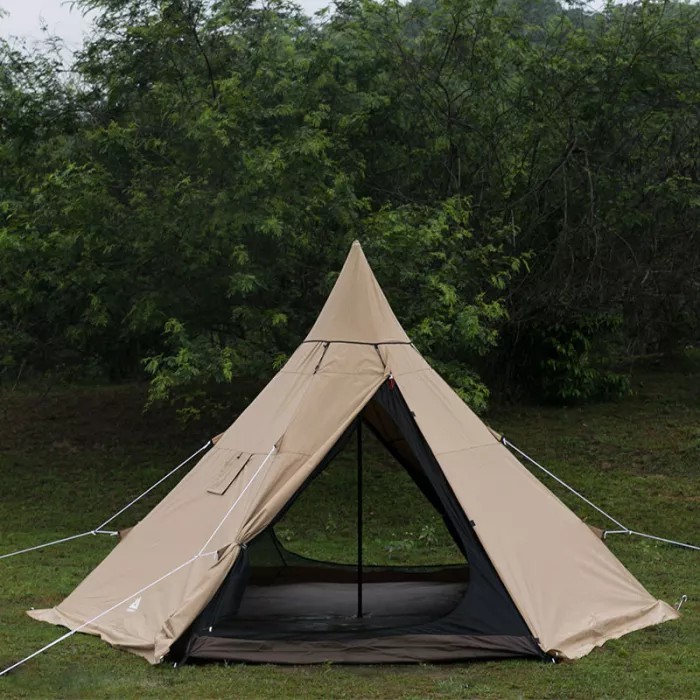 This is a large canvas tent, the material is 70% cotton and 30% polyester. Cotton is a good thermal insulation material. Adding 30% polyester can increase the toughness and Its waterproof performance is slightly weaker than oxford cloth, but the canvas is far better than oxford cloth in the feeling of use, and the heat insulation performance is not weaker than oxford cloth. As long as you avoid heavy rain, then it can give the best use experience.
This multi-person tent with opposing double-door design, in the daytime can greatly increase the light and ventilation inside the tent. This tent, in addition to the material, it pays more attention to the details of processing. Whether it is stitching and seams, or zippers and vents, it is the best craftsmanship and processing. For example, the seamless connection between the stove jack Velcro and the tent, the multiple fixing of the wind rope pulling point and the X-shaped reinforced design of the tent corners. With good maintenance and care, I believe this tent can be used for many years.
Specification
Capacity: 2P with wood stove or 3-4 person
Tent Fabric: Canvas (70% cotton + 30% polyester)
Waterproof: 1500mm
Floor Dimension: 125.7 sq ft / 11.68 sq m
Packed Size (L*W*D): 24.8 x 5.9 x 5.9 in
Total Weight: 23.2 lb / 10.5 kg
Season: 4 Season (Especially in winter)
Youtube:https://www.youtube.com/watch?v=gB-q3OuGdSk
Conclusion:
If you are a novice camper and haven't had enough camping experience and can't challenge the cold while winter, I would recommend using the STOVE HUT 70. the ultralight tent can fit right into your travel backpack and you can have your first tenting experience in a yard or park, and when you learn some camping experience, you can take it with you to some mild climate camping.
When you are an experienced camper and want to challenge the deep forest or want to go to a camping site with a cold climate, I recommend you to use the 2 types of tents behind, it can definitely provide you with enough warmth.
Safety Tip: When using the 2 types of tents in the back, be sure to ensure good air circulation, especially when you want to use the fireplace in the tent, always turn on the carbon monoxide detector to ensure your safety.