Are you planning your first hot tent camping trip? Are you debating which hot tent stove to buy? This article will introduce you to some of the best selling camping stoves in 2022, analyze the pros and cons of each of them, and provide you with an accurate guide for your purchase.
Which wood stove should I choose?
Carbon Steel Stove: The weight is generally heavy, most steel plate stoves weigh more than 18lbs. These stoves are thicker, made through a cold rolling process, and are harder and less prone to deformation. This is very suitable for wood stoves. Many metals will deform in high temperatures over a long period of time, which will then lead to gaps in the stove and smoke leakage when in use, which is a safety hazard. This kind of stove also has an obvious disadvantage, that is, the general sellers are using poor quality paint, in the high temperature will release toxic gases, which can be harmful to humans. Many campers will burn the paint off in advance, but this in turn will cause the stove to rust, and eventually the life of the stove is greatly reduced. All in all, the steel plate stove is suitable for beginner campers and is inexpensive, so it is a good choice if you are not on a budget and do not have much camping experience.
Stainless Steel Stove: Stainless steel is about the same weight as carbon steel, and it is also heavier. So it also has the advantage of thick walls of the stove, not easy to deform. And stainless steel stove is not painted, it will not produce toxic gas when used, and it will not rust in long-term use, so it can have a long service life. For stainless steel stove, the disadvantage is that it is an expensive and heavy weight. The price of a stainless steel stove is usually 2-3 times more expensive than a steel plate stove. It is difficult to carry if you do not use a car.
Titanium Stove: The weight of titanium stove is the lightest among the 3 kinds of material stove, usually the weight of titanium stove is 1.5Kg-3.5kg, and most of the titanium stove is foldable. These 2 advantages make titanium stoves easily fit into your camping backpack, and carry effortlessly. Titanium stove is also no paint process, so it can also be used without worry. Because titanium material is expensive, the titanium stove plate is generally thinner, easier to engrave on the decoration, it will look more exquisite than stainless steel. And titanium will change color with the temperature, from silvery white to indigo, which will be very satisfying for some people with aesthetic pursuits. The biggest disadvantage of the titanium stove is the price is expensive, many people can not afford, if you love camping and often camping, it is also a good choice.
SoloWilder 304 Stainless Steel Hot Tent Stove
Material: 304 stainless steel
Weight: 18 lbs/8.2 kg
Firebox: 11.2 x 7.9 x 7.7 inch
Foldable: NO
Features: Tiny, Sturdy, Closed top plate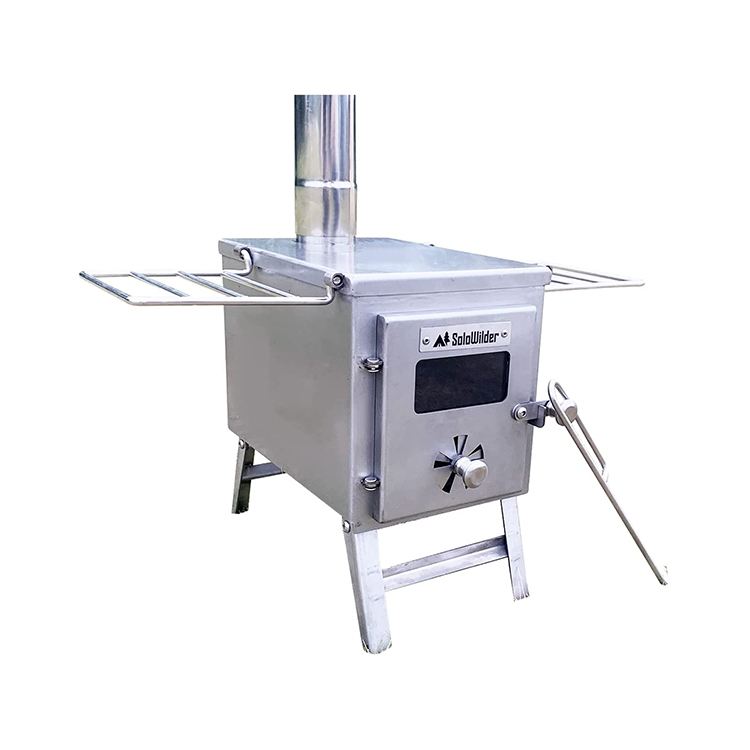 Comments: This stove is very small, more suitable for 1 person, and also only suitable for a small tent, in the large tent use, it may not provide sufficient heat. For a small stove, it uses 8.2kg of stainless steel, the same weight as most medium-sized stoves, which means it is very sturdy. This stove does not have a cooking hole at the top, which will reduce some of the smoke leakages and make it safer to use. Generally speaking, the heat transfer through the steel plate, the top of the stove is hot enough to cook. Of course, so it can not be grilled. So you need to choose according to your cooking habits.
POMOLY T-BRICK Titanium Wood Stove
Material: 1mm thickness titanium
Weight: 6.6 lbs / 3 kg
Firebox: 15.35 x 7.87 x 7 inch
Foldable: YES
Features: Colorful, Portable, Ultralight, Three-Dimensional Strengthening Stove Body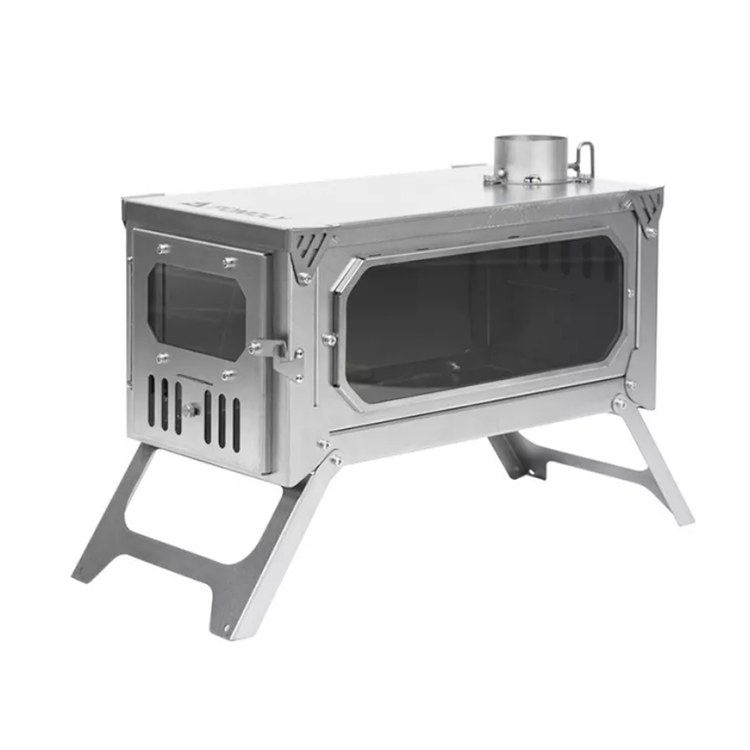 Comments: The biggest advantage of the titanium stove is its lightweight and foldability, which saves both space and energy when camping. When the car can not directly reach the campsite, the titanium stove will be the best choice. In addition, the titanium stove will change color at high temperatures, and the gorgeous appearance is much better than the black steel stove. But titanium stoves also have two disadvantages, one is the high price, if you do not camp a lot, the high cost of titanium stoves is not worth it. The other is that the titanium stove is relatively thin and easily twisted at high temperatures, making the next assembly difficult. POMOLY T-BRICK stove adds a three-dimensional reinforced structure to the top and bottom plates of the stove to alleviate this problem, using additional titanium plates to fix the shape of the stove. Judging from the comments shared by users, this measure effectively reduces the level of deformation.
Winnerwell Nomad – Medium Wood Stove
Material: 304 stainless steel
Weight: 20 lbs/9 kg
Firebox: 15 x 8 x 8 inch
Foldable: NO
Features: Sturdy, Water tank hang on the side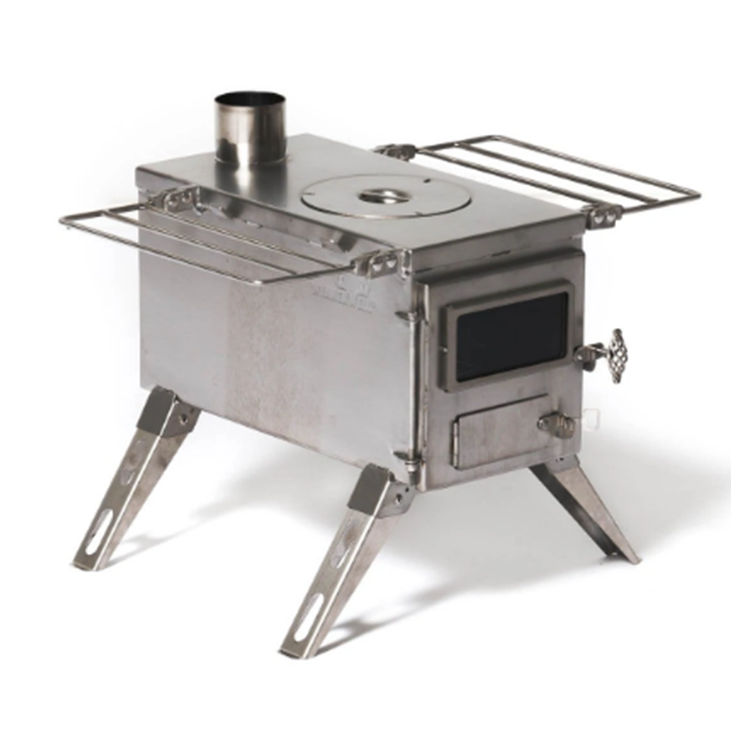 Comments: Winnerwell's nomad series of stoves have always been very high-quality assurance, compact and sturdy shape combined with 304 stainless steel, is a classic outdoor stove. Although its shape is not impressive, the details are very humane, such as every angle is polished smooth to prevent cutting hands, and the side shelves use double fixing points so that when placing items will be more stable. Then Winnerwell's stove has another advantage is that it has a full range of accessories, they have their own special oven and water tank to make your stove to achieve more functions. And this water tank can also be hung on the side of the stove, so you can cook and boil water at the same time. I guess that's what makes it unique.
YILI Outdoor Camping Stove
Material: steel
Weight: 13.2 lbs/6 kg
Firebox: 14 x 6.25 x 7.5inch
Foldable: NO
Features: Cheap, Light, Large combustion chamber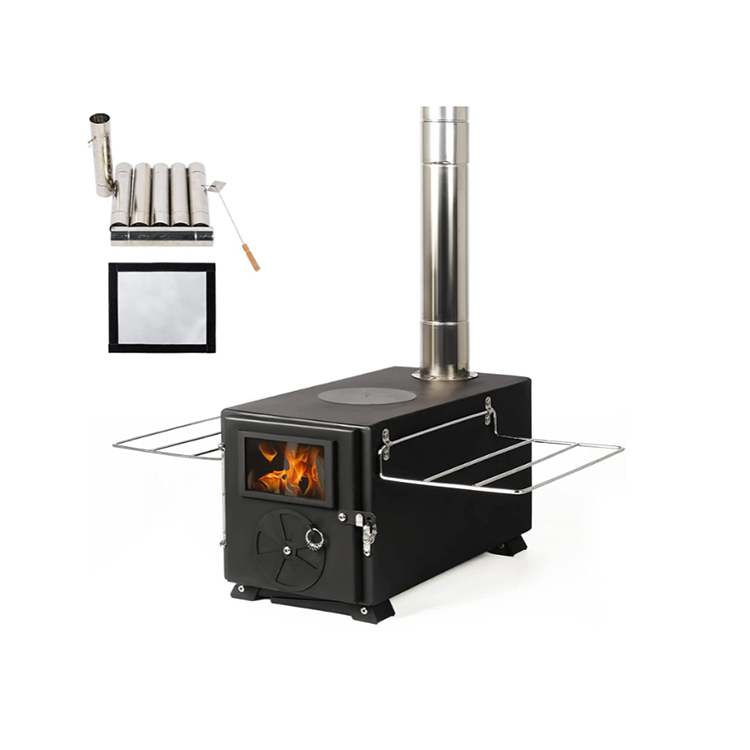 Comments: This stove is a best-selling tent stove on Amazon, it has the basic features of a camping stove, whether it's the side shelves or cooking hole, or the medium-sized combustion chamber. Of course, its biggest advantage is the low price, this stove is often on sale, the lowest price is only $ 109. This is an acceptable price for a novice to try and use. You should have a general understanding of the stove after looking at the previous models, the general weight of the stove is more than 17.6lb/8kg, this stove is only 13.2lb, so you can assume that it is a relatively thin material, for camping veterans, this is not up to the requirements, because there is no guarantee that it will continue to be used for the next camping trip. All in all, this best-selling stove, is only suitable for the initial camping experience and cannot be used for a long time. If they use better materials, then I think it will be rated better.
POMOLY DWELLER Wood Stove
Material: 304 stainless steel
Weight: 20 lbs/9 kg
Firebox: 15 x 8 x 8 inch
Foldable: NO
Features: Sturdy, Large glass window, Novelty modeling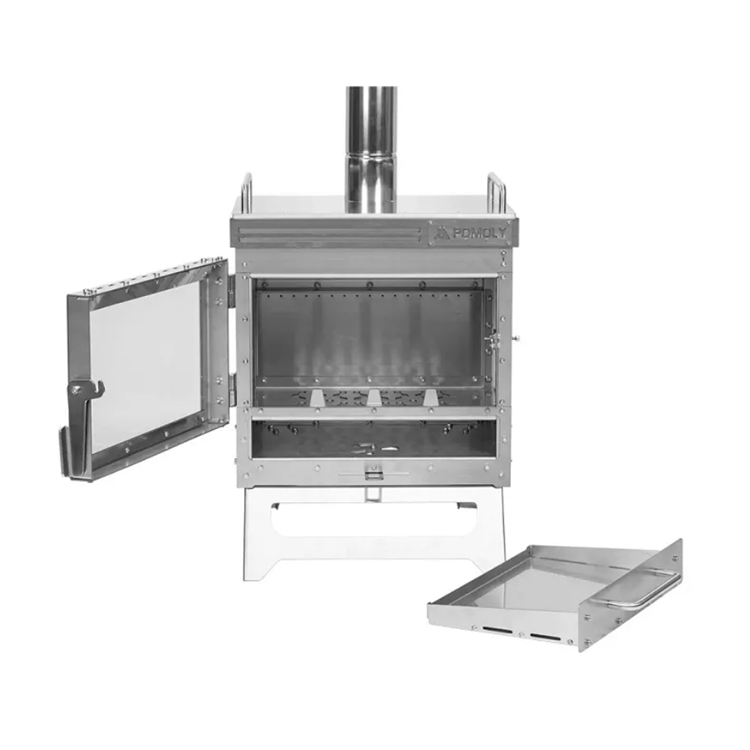 Comments: This stove is a stainless steel stove released by pomoly in the winter of 2021, both the appearance and texture give a very beautiful image, of course, the physical can really meet the expectations of buyers, is a little expensive, and very bulky. It has 2 advantages that can not be ignored, one is the large glass on the firebox door, burning and watching the flame is a great pleasure of camping, the other is the side opening mode, this side door is much larger than the traditional door, either adding firewood or placing firewood will be very convenient. Since it mimics the shape of a home fireplace, it can also be used inside the cabin to provide you with warmth. By the way, this stove is often out of stock, so be sure to ask their customer service before you buy, or you will have to wait 1 month to receive the goods.
TMS Portable Military Camping Wood Stove
Material: steel
Weight: 24.6 lbs
Firebox: no data
Foldable: NO
Features: Cheap, Durable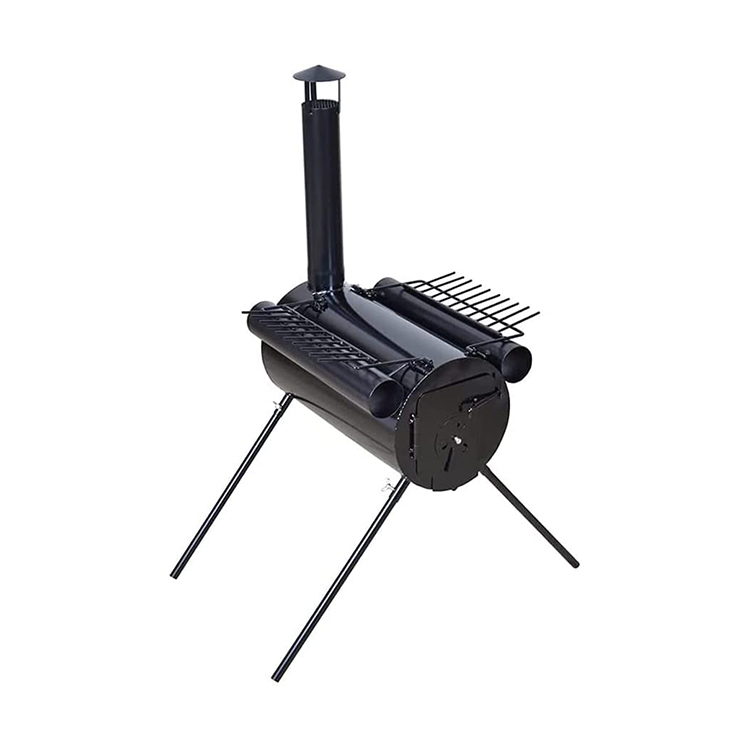 Comments: The round burning chamber is convenient for lighting firewood because it is easy to rack the firewood so that there will be plenty of oxygen flowing in. This is actually a great advantage. No one wants to waste time lighting firewood in the cold, an unobtrusive design but provides a really great experience, and that's one of the features of this stove. I would like to reiterate my opinion that a heavy stove is more durable. This stove weighs 24.6lb, which is heavier than most stoves on the market, and this ensures that the stove is sturdy and lasts longer in high temperatures, and is not easily pierced by flames. And it is very cheap at $120. When you load it with your car, you don't have to worry about being too heavy and difficult to move.
OneTigris Tiger Roar Tent Stove
Material: 304 stainless steel
Weight: 21.2 lbs /9.66 kg
Firebox: 7 x 8.2 x 15.3 inch
Foldable: NO
Features: Sturdy, Many accessories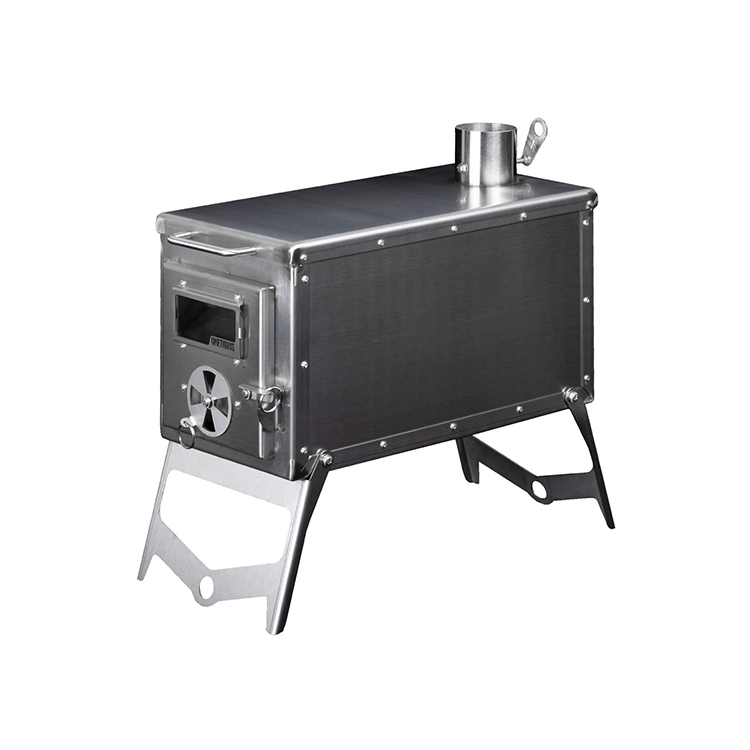 Comments: This stove has a long, flat body and rounded edges, a structure that makes it easy to add long pieces of firewood without the extra effort of chopping them off. The product is equipped with many accessories for use, such as heat-resistant gloves and various angled bends, which make it adaptable to a wide variety of tents and cabins. And onetigris is a veteran seller with many years of experience and many unique ideas on how to use the stove, and this stove is the optimal combination made after many optimizations.
WINNERWELL Woodlander Large Tent Stove
Material: 304 stainless steel
Weight: 30 lbs /13.6 kg
Firebox: 18 x 10 x 9.5 inch
Foldable: NO
Features: Sturdy, Tri-pod style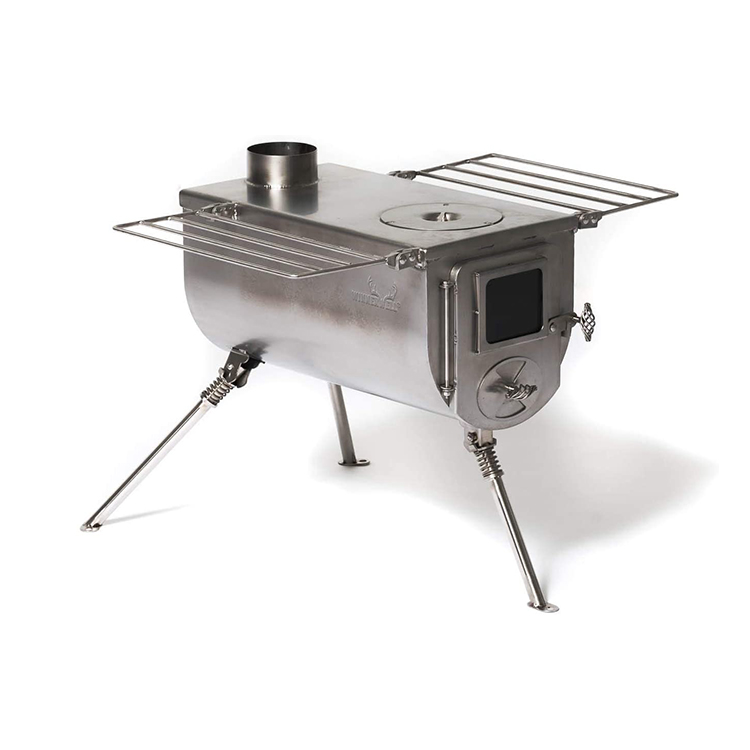 Comments: Compared with Winnerwell's Nomad series fireboxes, its two biggest features are the 3 legs and the round body. Its 3 legs are more stable than you think because the stove weighs 30lb, and with the weight of the wood, it won't tip over as long as you don't kick it on purpose. It is also a very good stove if you just want to change the taste, otherwise, there is no difference with the nomad series. You just have to worry about whether you have the extra money to buy it.
Camp Chef Alpine Heavy Duty Cylinder Stove
Material: steel
Weight: 74 lbs /33.56 kg
firebox: 24 x 20 x 22.5 inch
Foldable: NO
Features: Sturdy, Very big, Heavy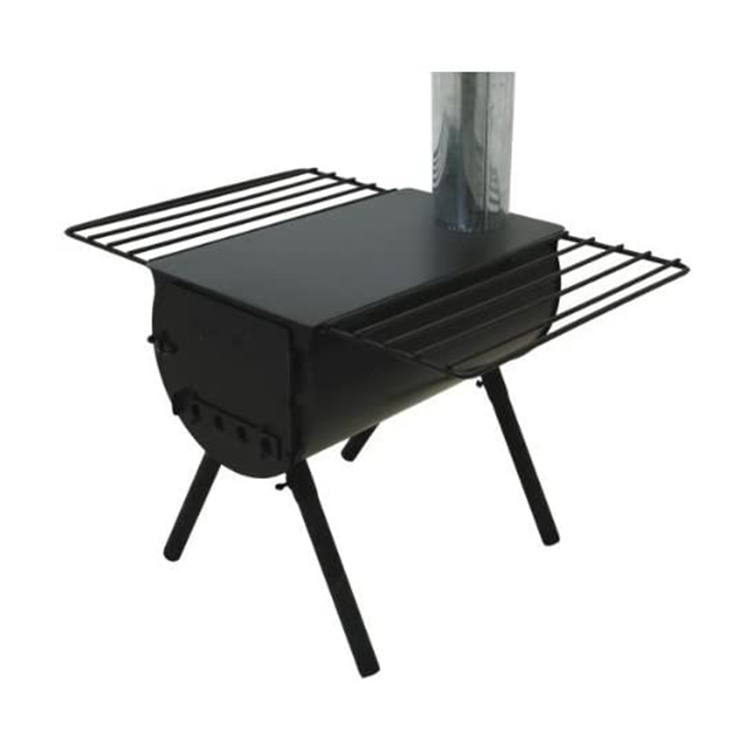 Comments: The first impression of this firebox is big, both the body and the stove pipe. I think it is more suitable for home heating, 74 pounds is not the average person willing to move. If you have to use it in a tent, perhaps a large tent for 6 or more people would be more suitable for it, because it provides too much heat. And the larger stove body can accommodate more firewood, you do not have to get up every hour to add firewood. You must pay attention to tent temperature and air circulation when you use it, it is very important for your own safety, do not try to compete with the flame for oxygen. The price of $220, I think a large part of it is used in the cost of transportation, so it is actually cheaper itself.
Conclusion
The order of ranking does not mean that the stove is good or bad. You must be clear about your preferences and frequency of use when buying a stove, each stove has its own advantages and disadvantages, price and the number of reviews is not the only criterion. And in youtube there are videos related to these hot stoves, perhaps after seeing the real experience of others, you can make a more accurate choice.