As an avid camper, I am very excited. Now, going camping with friends on weekends has become a part of my daily life. I have to camp at least twice a month. Over the past two years, I have noticed that more and more people are experiencing this outdoor activity. So far, more than 290000 posts have been searched for "camping" on the social platform Facebook, involving campsite selection, camping equipment brands, camping methods, and other aspects.
Although a successful camping trip does require some basic items, it is by no means a waste of top best camping tents that you can experience a good camping experience. "Those famous brands and logos may be tempting, but there is always another choice!" For beginners, the firstbest camping tent you choose determines whether you are willing to camp again most of the time.
1. HEX Tent Series
Specification
Capacity
1-3 persons with

wood stove

or 2-4 persons
Stove Jack
Heat resisting stove jack (Upgrade 2021)
Snow Skirt
6 sides snow skirts
Doors
Two opposite doors
Tent Fabric
300D Oxford with silver coating layer
Waterproof
3000mm+ Waterproof Seam
Floor Shape
Regular Hexagon
Joint Treatment
Seamed with Glue
Ventilation
Top Vent and Bottom Vent
Color
Green, Coffee, White
Season
4 Season (Especially in winter)
YouTube Videos:
advantage
Pomoly HEX hot tent is a hot tent suitable for use in winter.
Thebest camping tent fabric of this tipi hot tent is made of 300D Oxford cloth.
It has strong tear resistance. And easy to clean.
The weight of the tent is 12.6lb, which is not light. Not suitable for carrying when hiking camping.
The waterproof grade of this tent is 3500mm hydrostatic head, professional-grade waterproof. Don't worry about storms during winter camping.
This is also a teepee best camping hot tent suitable for four seasons. Three ventilated places allow it to cool down quickly.
Disadvantage
Weight is the biggest disadvantage of this tent.
2.MANTA RHOMBUS Tarp Series
Specification

| | |
| --- | --- |
| Capacity / Seasons |  1-2 Person / 4 Season |
| Tent Fabric | Canvas (30% Polyester + 70% Cotton) |
| Waterproof | 1500mm |
| Tarp Size | Suqare (14.7 x 14.7ft / 4.5 x 4.5m) |
| Weight | 12 lbs / 5.5 kg |
| Joint Treatment | Seamed |
| Color | Khaki |
| Stove Jack | High Temperature Resistance |
Product display: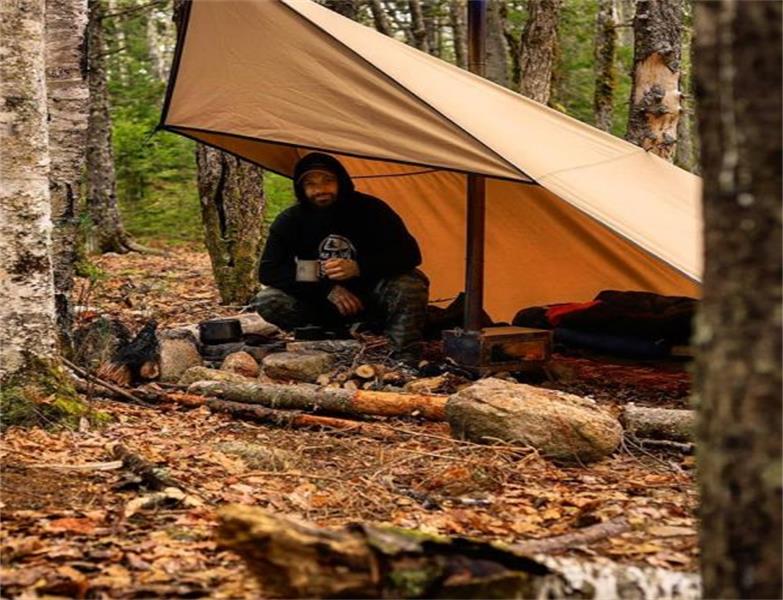 Shop Now: https://www.pomoly.com/Rhombus-Hammock-Hot-Tarp
advantage
Designed by Jeremy in 2020, he likes hammock camping and winter camping. Because he had always wanted to make such a two-in-one camping tarp, the Manta rhombus tarp series realized this plan.
Manta rhombus tarp series tried many materials, including silicone nylon, Oxford cloth, and canvas, and found that canvas can maintain a balance between insulation and ventilation. This hammock tent will be a good choice for you.
shortcoming
Hammock  hot tents are more suitable for hiking. If it's family camping, I prefer to buy a tent for 4 ~ 6 people.
3. Whiteduck Regatta Canvas Tent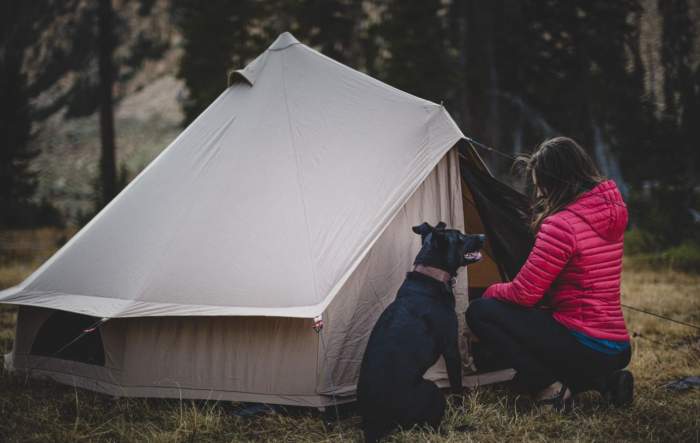 Specs:
Weight: 77 lbs (34.9 kg)
Packed size: 46" x 15" x 15" (117cm x 38cm x 38cm)
size: 197" x 197" (500cm x 500cm)
Peak height: 118" (300cm)
Rooms: 1
Shape: Bell
Best for: Four season family camping
Occupancy: 8 person (6 & 3 person also available)
Price: $$
Stove included: No
At first glance, you may be forgiven for mistaking the white tuck Avalon bell camping tent as its sister model, Regatta. Its dimensions are the same, as are its vents, windows, doors, and storage functions. However, if you look closely, you will find that Avalon is different.
Pros:
Better wind/snow specs performance than most
Cons:
Bulletproof 8.5 oz cotton canvas
Better wind/snow specs performance than most
Sewn-in groundsheet is tough is easy to clean
4. Russian-Bear UP-2 Hot Tent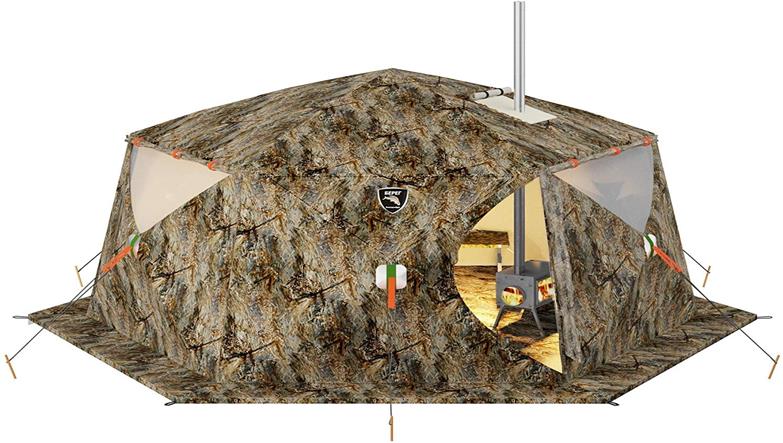 Specs:
Weight: 55 lbs (24.9 kg)
Packed size: 55" x 12" x 12" (140cm x 30cm x 30cm)
Floor size: 134" x 134" (340cm x 340cm)
Peak height: 74" (188cm)
Rooms: 1
Shape: Dome
Best for: Hot Camping For 1
Occupancy: 5 (3 and 8 person models also available)
Price: $$$
Stove included: Yes (in option)
Pros:
3 layers insulated floor
5 layer
Best safety features we've seen in a non-canvas model
Cons:
Oxford fabric is tough but isn't canvas.
SO expensive
Hope you like camo
Although you may be completely ready to go out and buy your best camping hot  tents, the parameter tables of  hot tents, as well as their advantages and disadvantages, can help you choose the hor tents you want. These entry-level best camping hot tents will keep you dry, rest, and full. Most importantly, they will prepare you for an interesting and relaxed camping trip.
A good tent can protect you from cold, wind, and rain, but a bad tent will make you tremble because of the pool at your feet. Therefore, if there is room for maneuver in your budget, we suggest you choose your favorite brand tent and give priority to high-quality tents rather than less important camping equipment.
If you just want to try to build a hot tent but don't want to go bankrupt, most of Pomoly's tents can meet your needs. In addition, you can save enough money to buy a stove. Canvas tents can be used for most applications and have enough extra cash in your pocket to make yourself a better match. Need more information about best camping hot tent stoves? Check out our special article on tent stove safety, setup and selection!