First of all, I will define POMOLY T1 Taisoca Oven Stove, that is, it is a camping wood stove developed for baking food. If you really like the food baked in the oven, it will be perfect for you. The oven is divided into 2 parts, the top part is the firebox, the bottom part is a separate oven. The oven is on the bottom, so the temperature is much lower than the top, and the temperature is more stable, perfect for baking pizza and bread. If you are not very enthusiastic about baking, then POMOLY's T-brick titanium stove or T1 stove will be more in line with your cooking or heating requirements, which can also save a lot of money.
Let's Take a Look at People's Reviews on Pomoly T1 Taisoca Oven Stove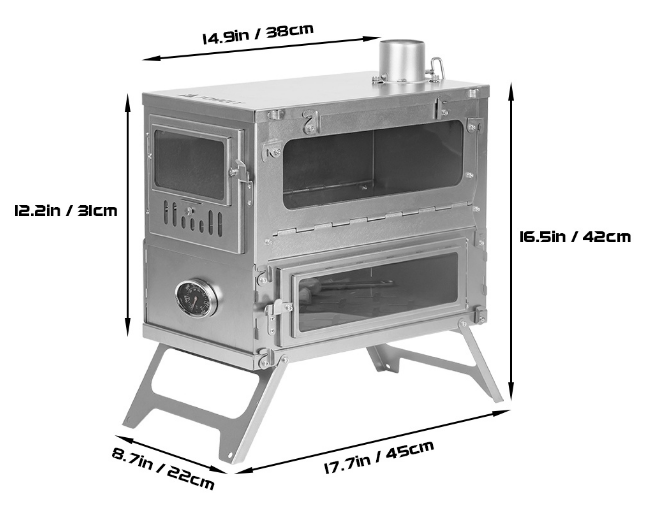 Specifications:
Stove Type: Titanium Stove with Oven
Weight(Without chimney): 10.6 lb / 4.8 kg
Folding Dimension: 16.3 x 8.7 x 4.3 in (41.5 x 22 x 11 cm)
Oven Dimension: 14.9 x 8.7 x 4.3 in (38 x 22 x 11 cm)
Assembly Dimension: 17.7 x 8.7 x 16.5 in (45 x 22 x 42 cm)
Side Glass Size: 11.8 x 3.9 in (30 x 10 cm)
Oven Glass Size: 10.4 x 2.6 in (26.5 x 6.5 cm)
Spark Arrestor: Yes
Pipe Diameter: 2.36 in / 6 cm
Material: 1mm Thickness Titanium (GR1/TA1)
Firebox Volume: 15L
Oven Volume: 9.2L
Includes: T1 Taisoca Stove, Titanium chimney, Stove carry bag, Smoke damper, Spark arrestor with 3 rings, Cut resistant gloves.
Youtube:
Reviews From Youtube
Great video. Love this stove (don't have one yet but I want one). When I saw you make the pizza I was like yup I need that. Thanks for demonstrating in the freezing weather. I appreciate all you do to teach us, you definitely go out of your way. I know you enjoy it but it's so helpful to us. Be safe and stay warm. ( – Llory Lloyd from Youtube)
Such a great POMOLY T1 Taisoca Oven Stove man a mind video in real life scenario.  I gotta say I wanted to reach out to ask if you know any fold up titanium stoves for my smaller hot tent.  HERE IT IS. I bought a different brand ultralight titanium stove and it had sliding walls.  Issue is they warped and never match in the slots again.  Also when it's really cold and dark or tired I struggle to get my stove together.  This one here seems to be what I been looking for.  Awesome video and review well done. ( – Papa Romes Outdoors from Youtube)
Thank you for the review on this stove/oven for camping it looks nice. ( – Dm Tnw Outdoors from Youtube)
Conclusion
In the wild without electricity, you can still eat baked goods, this feeling must be very good. But when using this pomoly oven POMOLY T1 Taisoca Oven Stove, please always be vigilant, because too fragrant food will attract the hungry beast.