A camping hot tent is any temporary shelter you can take with you, which can keep you comfortable even in wet or cold conditions. Camping hot tents can also protect against elements – it's like a house. It can keep you away from the scorching sun, rain and snow, and insects.
Tents come in various sizes. Although some are designed for Solo travelers, some tents can accommodate up to 10 people and can easily accommodate a traveling family to hike in the woods. Therefore, you will have many choices. There are many other things to consider, such as the size and style of the windows, the quality of the zippers, the number of doors, and the materials of the walls.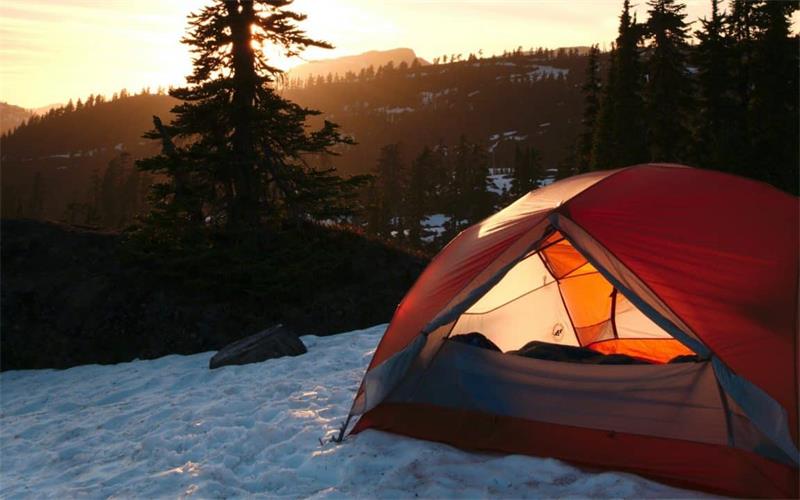 The following five tents have different designs and styles, but I think each tent has its advantages. Let's have a look!
Pomoly Hussar Plus Lightweight Tent
The weight of camping gear is very important for hikers and backpackers. If you need a tent that is light and warm, the Hussar Plus lightweight tent from pomoly can meet your needs.
Pomoly chooses 40d single-sided silicone nylon as the main material of the tent. To reduce the weight, the pole of the tent is made of aluminum alloy. Customers who bought the camping tent praised it:" It is lightweight. The tent is easy to set up. The quality and construction are better than what I expected " Some people will worry that the lightweight tent can't resist the cold. Don't worry. Because the fabric of the tent is tear-resistant and can shelter from rain and wind. Each tent is also equipped with a stove jack, so you can use a wood stove in the camping tent. You can not only get warm but also make delicious food.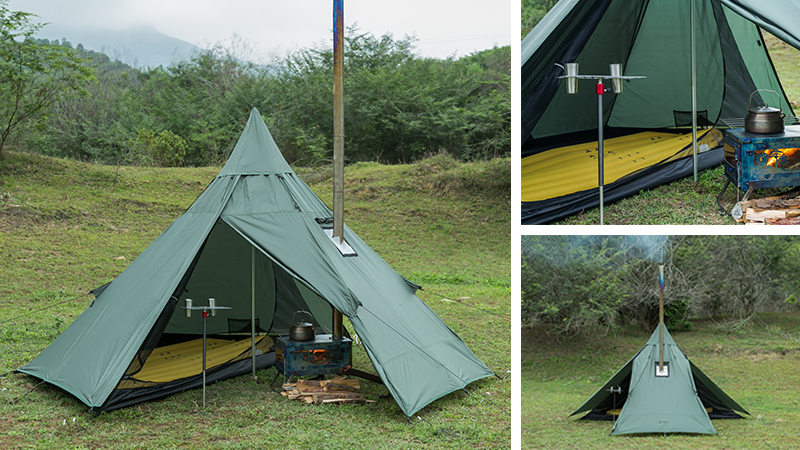 Shop Now: Pomoly Hussar Plus Lightweight Tent
Russian-Bear Hot Tent with Stove Jack
I have not found a negative review of the Russian-Bear Dome hot winter tent with stove jack on the internet. Raving reviews come from such trusted sources as Lonnie from Far North Bushcraft and Survival (see YouTube video below).
Conclusion
The Russian-Bear Dome hot winter tent is easily the toughest winter tent with a stove jack out there. It is relatively light compared to the other bell-shaped tents reviewed here but also smaller. This tent is highly recommended for extreme weather conditions but is probably overkill for anything else.
PlayDo Cotton Canvas Bell Tent
The PlayDo Cotton Canvas Bell tent is made of 300 gsm cotton, which has its advantages. Cotton gets a bad reputation in the outdoor community because cotton clothes don't dry easily when they get wet. But the cotton for this tent has a waterproof treatment and the canvas is very durable. The seams are taped and the floor is a PVC waterproof material, so the tent is fully waterproof.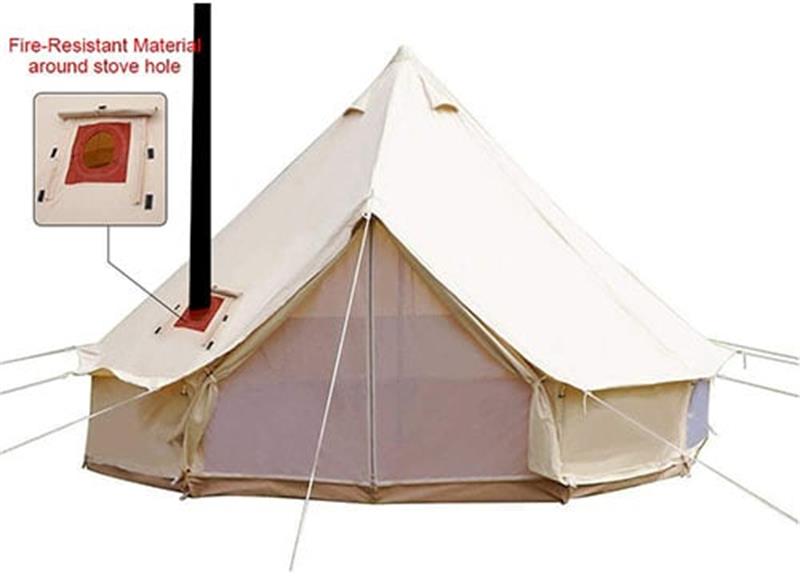 Conclusion
The PlayDo Cotton Canvas Bell Tent is a solid four-season tent with a stove jack but isn't quite as durable as the Russian Bear for extreme winter camping. It is marketed as a "glamping" tent and will do well in moderate winter camping. It is fairly priced for its size and quality. Not as durable for extreme weather conditions
White Duck Canvas Bell Tent
The nicest feature of the White Duck Bell tent is a large amount of space on the inside. This tent is taller than it looks and provides a roomy interior. The 13-foot model can sleep 6 people and the 16 foot can sleep 8. This is a canvas tent that can both insulate and breathe so it is considered a four-season tent.
At 98 pounds for the 13′ Avalon, weight is a downside of the White Duck Canvas Bell Tent. And while one person can certainly manage to set this tent up, it is a bit involved.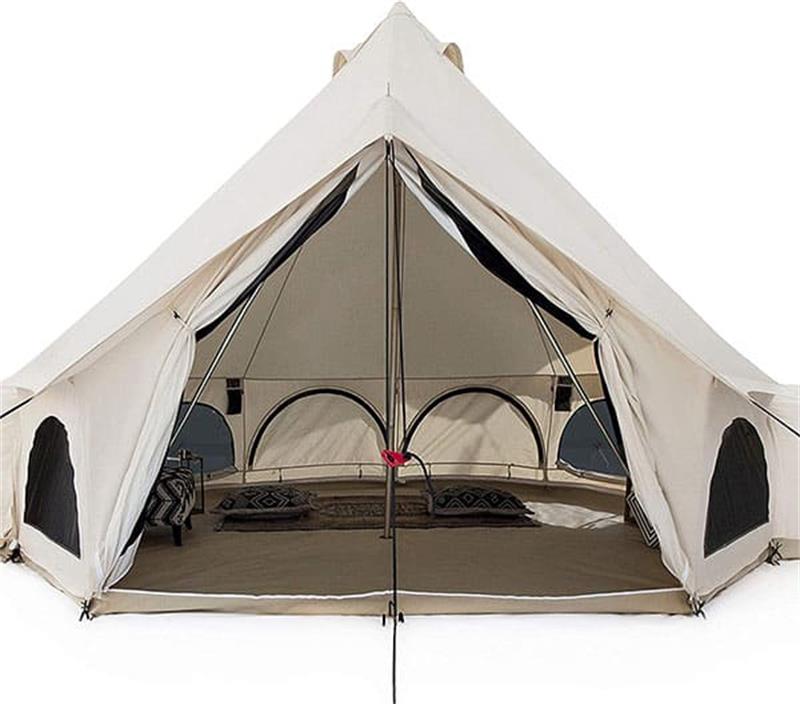 Danchel Cotton Bell Tent with Two Stove Jacks
Despite receiving mostly positive reviews from various sites around the internet, Danchel does not appear to have a website of its own. This throws up a red flag for me because these tents cost several hundred dollars. A website mostly just takes some time and effort. A company that won't put time and effort into creating a homepage to showcase their brand makes me question how much time and effort they put into things like customer service and quality control.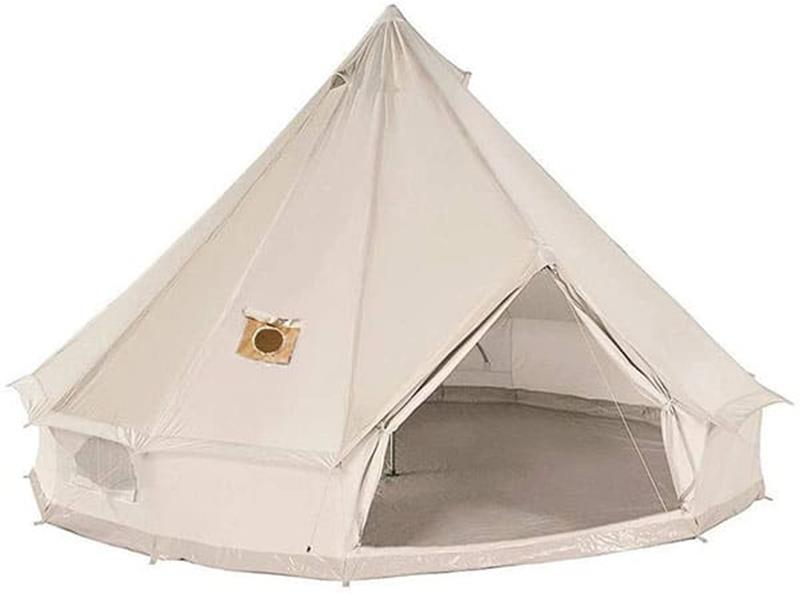 Conclusion
The tent quality was not reviewed here because this company does not put a lot of care into presenting its products online. They do not have a website of their own and the product description on Amazon is very poorly written. For me, these things are red flags and I cannot recommend buying from such a company. If you want to take your chances with this tent, I'd love to hear your experience in the comments below.